Last November, I blogged here about my experience at an intelligence and security symposium in Hamburg and a number of the things I was told there seem to have been confirmed by recent reports of a German Jihadist cell recently targeted in Pakistan.
Organised by the Hamburg state Office for the Protection of the Constitution – the local branch of Germany's domestic intelligence service – the event was surprisingly open and the speakers very frank. Attendees were informed that the Hamburg al-Quds mosque, one of the staging areas for the 9/11 attacks, remains a centre of jihadist activity and was heavily surveilled. It was also claimed that in the past six to seven years, around 200 German residents had travelled to tribal regions in Pakistan to receive terrorist training with the intent of either taking part in operations against coalition troops in Afghanistan or returning to ply their violent trade in Europe. Indeed, 50 of them were already known to have returned to Germany at the time of the symposium and were being closely watched.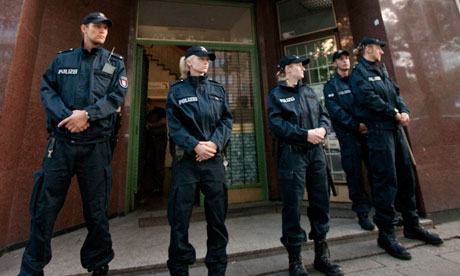 German Police Outside the Hamburg Mosque After it was Shut Down (Sven Klein/AP)
Of these 200, one group closely connected to the Hamburg mosque is particularly relevant because of one of its members: Ahmed Siddiqui. Siddiqui, a German-Afghan, travelled with a number of German residents seeking training and was subsequently arrested by US authorities – he is now apparently the main source of intelligence for the recent drone operations that reportedly killed four or five (depending on reports) Germans and a British citizen in North Waziristan.
If reports of an imminent attack on Europe orchestrated by a cell of German residents do turn out to be credible, it should not therefore come as any surprise. Jihadist activity in Germany has been on the increase; particularly since the country's military involvement in Afghanistan has become a useful recruiting tool for disaffected German Muslim youth. The official line on why the Hamburg mosque had been allowed to remain open was that it was part of a strategy to create the illusion of a safe haven for extremists, who will congregate at the mosque and can then be easily monitored by the security services. Its enforced closure in August, and continuing legacy of nurturing extremism, perhaps demonstrates that this approach was a failure.
Further analysis of this will follow as soon as we receive more detailed reports.