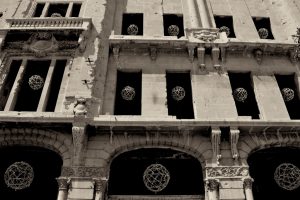 Hosted by the Middle East & Mediterranean Studies Department, King's College London on 02/10/2012.
This book examines the legacy of Lebanon's civil war and how the population, and the youth in particular, are dealing with their national past. Drawing on extensive qualitative research and social observations (Dr Larkin spent four years spent in the Middle East (2001-2004), studying Arabic at Damascus University while also assisting in community development projects in Lebanon, Jordan and Iraq), he explores the efforts of those who wish to remember, so as not to repeat past mistakes, and those who wish to forget.
Craig Larkin is a lecturer in Comparative Politics of the Middle East at Department of Middle East and Mediterranean Studies, King's College London. He was previously a research fellow at Exeter Politics department, working on an ESRC funded project 'Conflict in Cities and the Contested State' (2008-2012). He holds a PhD in Middle East Studies from the University of Exeter (Institute of Arab and Islamic Studies, 2009).
For more information please click here.