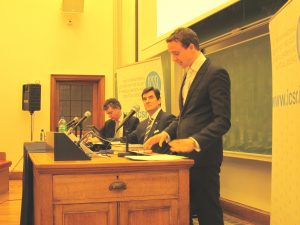 ICSR was delighted to host a debate between Ambassador Mitchell B. Reiss and Jonathan Powell on whether the time is now right to talk to Al Qaeda. Although they did not completely disagree on the finer details there were some good arguments for both sides.
Ambassador Mitchell B. Reiss is an internationally recognised negotiator and President of Washington College. From 2003-5 he served as Director of the Office of Policy Planning at the US State Department; in December 2004 he was asked to serve as the President's Special Envoy for the Northern Ireland Peace Process with the rank of Ambassador, which he did until February 2007. Starting in 1999, Reiss held a number of leadership positions at the College of William & Mary, including Vice Provost for International Affairs, and Dean and Director of the Reves Center for International Studies. His latest book, Negotiating with Evil. When to talk to terrorists was published in late 2010.
Jonathan Powell was a diplomat for 16 years and then went on to serve as chief of staff to Tony Blair from his election as leader of the Labour Party in 1994 until his resignation as Prime Minister in 2007.  From 1997 to 2007 he was chief British negotiator on Northern Ireland.  He has published two books since then Great Hatred, Little Room: Making Peace in Northern Ireland (2008) and The New Machiavelli: How to Wield Power in the Modern World (2010).  He works as a senior adviser to the Centre for Humanitarian Dialogue in Geneva.
Moderated by: Dr John Bew, Co-Director, ICSR