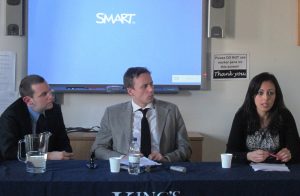 Yesterday ICSR launched the Winter 2012/13 Atkin Fellow papers to a full room at King's College London.
• Dareen Khalifa, Egyptian Atkin Fellow. Egyptian Consultant, Amnesty International in London. Dareen has previously advised the National Council for Human Rights in Cairo on human rights education and advocacy. Dareen's paper makes the case for re-examining and altering the 1979 Egypt-Israel Peace Treaty in light of the recent popular uprising in Egypt and the political changes that are currently sweeping across the region.
• Gil Messing, Israeli Atkin Fellow. Former Adviser and Spokesperson (2007-2012) to Tzipi Livni, whilst she was Vice Prime Minister, Minister of Foreign Affairs, and leader of the Opposition. Prior to that Gil was spokesperson for the Israeli Security Forces in the Gaza Strip during the Disengagement Plan. Gil's paper focuses on practical means and steps that both Israel and the Palestinian Authority can take to create sustainable relations between the two sides in the absence of direct negotiations.
To listen to the event please click below.
[powerpress]