By Bronte Philips
In a speech given on Hezbollah's 11 November Martyrs' Day in 2021, the group's Secretary-General, Hassan Nasrallah, stated that "it was with the blessing of these martyrs" that there exists "passion, nostalgia, love, adoration, psychological solace, and a lively spirit in Lebanon".[i]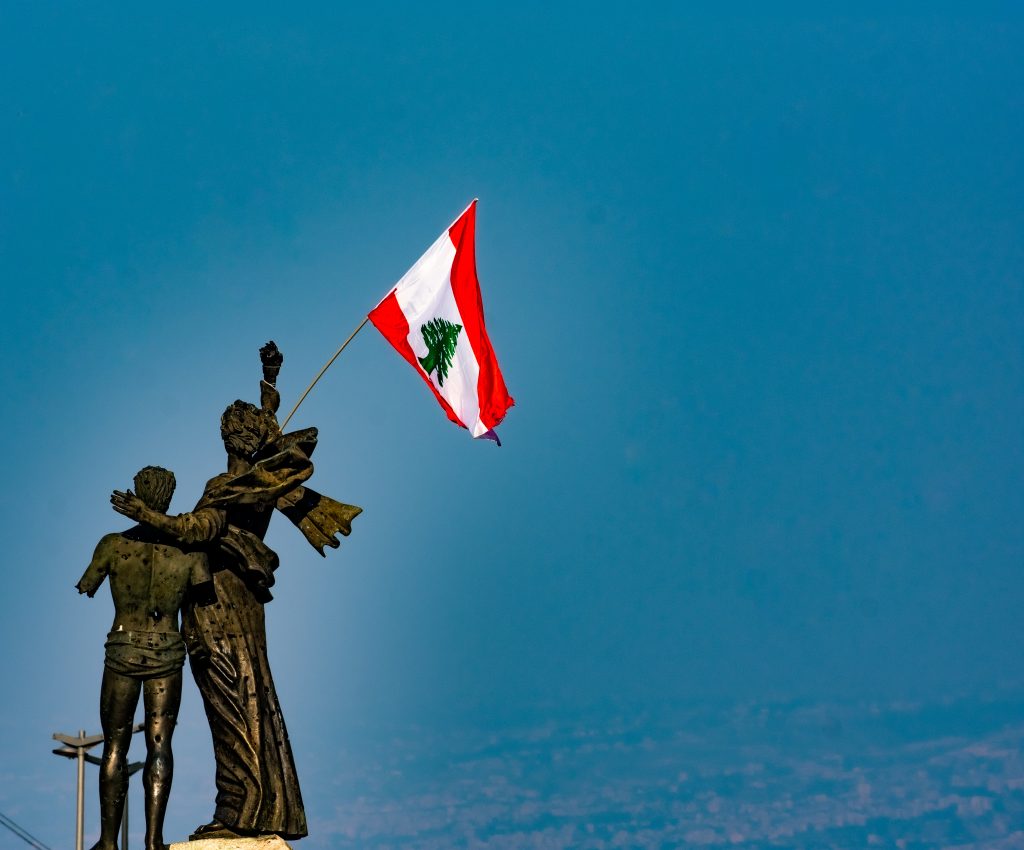 Photo: Martyrs' Monument with Lebanon flag at Martyrs' Square in Beirut. Credit: Shutterstock/Erich Karnberger.
Ideas of 'martyrdom' in the Middle East first rose to prominence in academic scholarship in the mid-2000s, when the term became incorporated into the War on Terror zeitgeist, due in part to the perceived "numerous religiously motivated suicide-attacks in conflicts all over the world where the recourse on martyrdom discourses has been made prominent".[ii] The vast amount of literature on martyrdom in the context of Muslim theologies and societies – its connection to radicalisation, jihad and suicide bombing, the use of the martyr as a weapon, and Western perceptions and receptions to martyrdom as a "an Islamic culture of death" – sought to construct a totalising Islamic martyrdom institution in order to find solutions to the threat of terrorism.[iii]
Yet, contrary to popular studies of radicalisation and extremism, martyrdom is not a priori. An individual does not become a martyr solely through having died and/or suffered, but is constructed as such by the societies, institutions, and other individuals who memorialise them, as part of a continuation of a lineage of centuries of theological and societal memory practice. In Lebanon, a country constituted by diverse ethnic and religious identities with a long history of intra-community conflict, martyrdom continues to be one of the most significant and mobilising carriers of memory in contemporary discourse. Narratives expand and re-shape according to cycles of violence: the martyr as hero, victim, national icon, resistance fighter; the 'everyday' man and the holy representative.
Most writings on political Lebanon and memorialisation acknowledge the "walls continually adorned with banners, posters, portraits immortalising iconic images and infamous slogans, an informal cornucopia of the 'living dead'", and "the legions of martyrs on the walls".[iv] Yet, not many young Beirut residents could tell the story of the memorial at the centre of Martyrs' Square, the focal point of Downtown Beirut. Why, then, are some martyr figures and narratives highlighted in memory, and others demoted? To what extent is this shifting? Whilst diverse in their representation, contemporary conceptualisations of martyrs in Lebanon serve three major functions: identity construction, legitimation and mobilisation.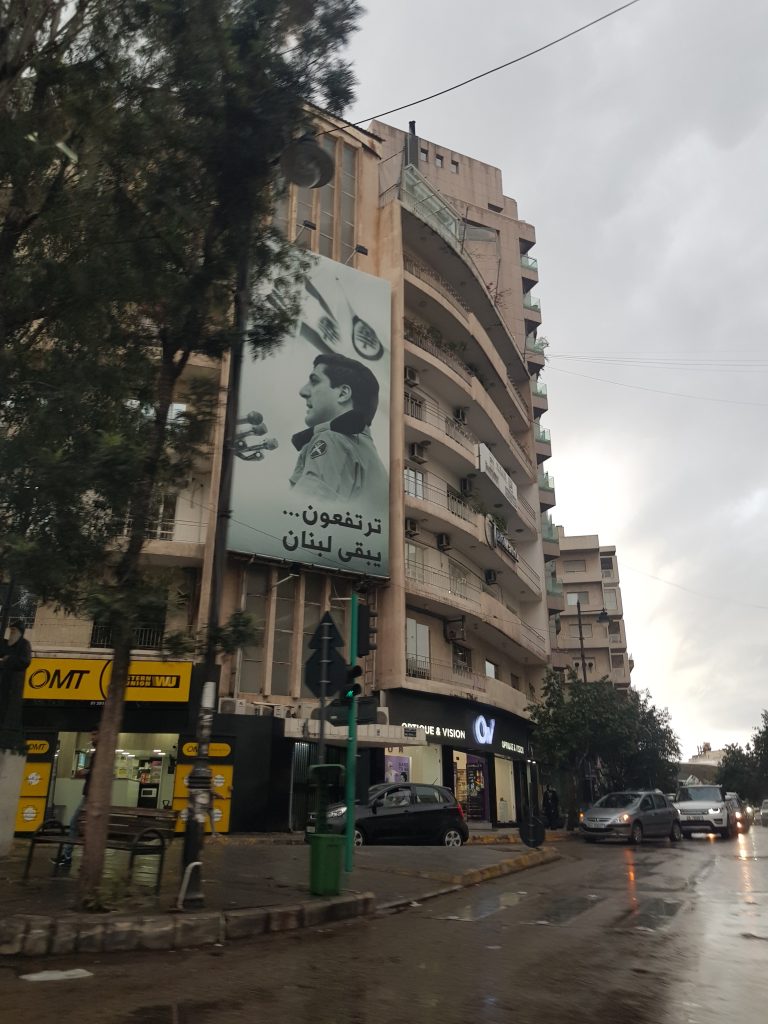 Photo: Poster commemorating Bachir Gemayel, Leader of the Lebanese Forces during the civil war and President of Lebanon in 1982. Credit: Bronte Philips.
Functions of martyrdom
The most defining period of contemporary martyrdom construction was Lebanon's Civil War (1975-1990). The series of sectarian battles, massacres and evictions established a competitive field of discourse, in which martyrdom was established as "a coveted currency that parties strived to display".[v] The memory of the dead served less as a unifying discourse, but a battleground. Each party and militia claimed to have martyrs of a particular cause, opposing the vision of others. Political leaders took advantage of the emotive memory vector of martyrdom, "not necessarily because they believed in the concept but only as a means to an end."[vi] Martyrdom posters, now an institution in contemporary Lebanon, became a major competitive industry, carving out schisms between communities. These visual representations constituted "a relentless battle for signs and symbolic appropriation of territory", marking out allied streets, shops, universities, places of worship and front lines.[vii]
Through martyrdom, memory could be flexed to serve a range of different purposes. Reminders of the sacrifices gave not only new combatants a cause to fight for, but current combatants a reason to continue fighting. Narratives of sacrifice also became a useful tool for parties to reframe their losses, through conceptualising martyrs as heroic defenders of the community and demonstrating the party's legitimacy. Some parties even provided details about the way their martyrs died in an attempt to prove beyond doubt that they had 'offered blood'. As Dabbous et al. explain, "instead of saying 'We lost four people', the PLFP [Popular Front for the Liberation of Palestine] would say 'We offered four martyrs'.
Military defeat suddenly became an honourable tribute to the party's heroism and authority."[viii] This became particularly significant with the deaths of party leaders. After the death of Progressive Socialist Party Leader Kamal Jumblatt in 1977 and Lebanese Forces leader Bashir Gemayel in 1982, images of the 'martyred' leaders became prolific in martyrdom posters, demonstrating the faithful commitment of the party to the vision of their leaders and the preservation of the party after their deaths.
Ironically, the competitive field of martyrdom did not end with the arrival of the Ta'if Agreement in 1991, and the end of the period of conflict. Instead, the combination of state-sponsored "collective amnesia" and continued violence and unrest in Lebanon created a vacuum for a proliferation of martyrdom narratives.[ix] Habitual violence and its memorialisation normalised a "hypertrophy of memory" in the form of martyrdom memorial monuments, posters and billboards, museums, documentaries and social media campaigns.[x]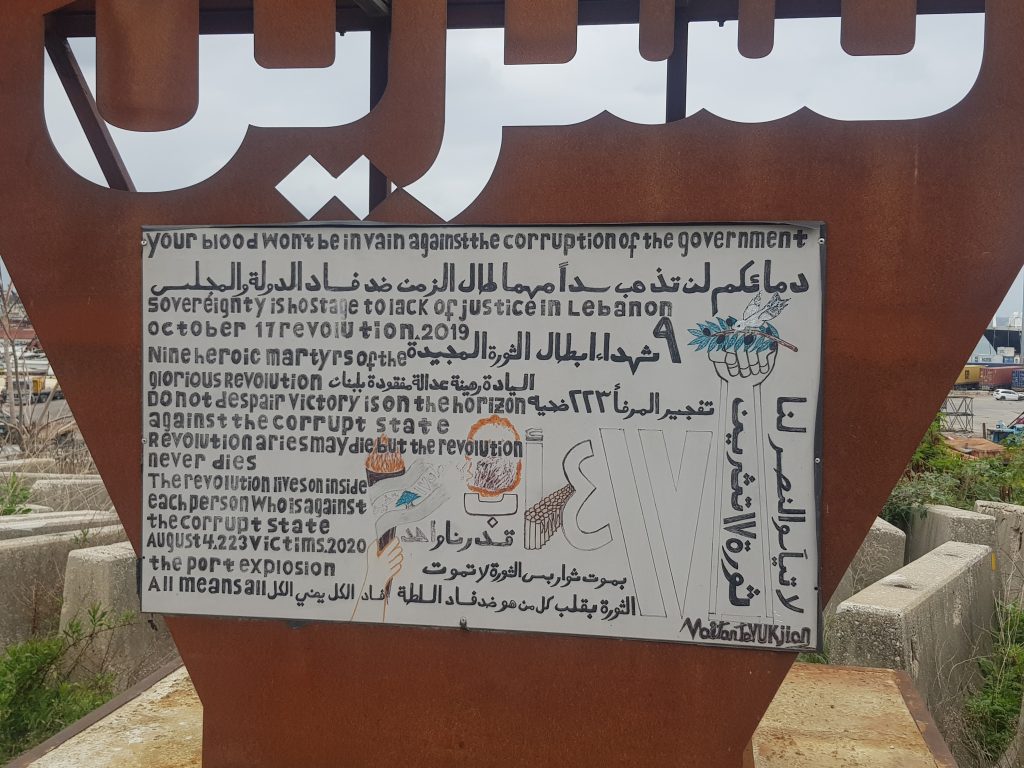 Photo: Memorial plaque to the martyrs of the October 2019 revolution. Credit: Bronte Philips.
Although there were various attempts by political leaders and civil society at memorialisation of collective martyrs in the 1990s, there were, and remain, no collective martyrs of the Civil War recognised by a unified Lebanon, only sectarian schisms of memory, competing for the category of martyrs. Currently, there are more than 28 war memorials in Lebanon, and at least four (and counting) different martyrs' days alternative to that celebrated by the centralised state.[xi]
Although Lebanon has not descended again into full-scale civil conflict, a key function of martyrdom memorialisation in contemporary Lebanon continues to be mobilisation: to remember past sacrifices, revitalised by 'new' conflicts and episodes of violence, and to conceptualise the more recent dead as a continuation of the community martyrdom lineage. Political commemorations of martyrdom post-Civil War have as much to do with the present as the past, in an ongoing anticipation of future violence.[xii]
Personalities of martyrdom
The icon of an individual remains an important part of contemporary martyrdom discourse. Rafic Hariri, Lebanon's former post-war prime minister and the foremost politician to have been killed in the wave of assassinations in 2005, is memorialised as a martyr of the state. His memorial is located in close proximity to the Martyrs' Memorial statue in Martyrs' Square and the imposing structure he endowed, the Mohammed al-Amin mosque. Large billboards mark his domain of Downtown Beirut with visual representations of Hariri himself and the slogan "we will not forget [you]", a continuation of the icons of religious martyrdom and the posters of the dead leaders of the Civil War.
Whilst the positioning of Hariri in the centre of Lebanon's capital, and as a symbol of post-war unification, suggests an appeal to a national martyrdom, such memorialisations mark an important divisive aspect of the discourse of martyrdom in contemporary Lebanon: competitive legitimacy. Hariri memorialisations often bear the additional slogan, "truth". There is no tradition for prosecuting and punishing political murders in Lebanon and, as such, the perpetrators of Hariri's assassination have never been held to account. Martyrdom, in this context, serves the purpose of providing resolution (for not just Hariri in this instance, but also, through his iconisation, the state of Lebanon) and mobilising the population in calling for "truth".[xiii]
Out of this competitive field, arguably the most prominent owner of martyrdom discourse in contemporary Lebanon is Hezbollah. Utilising the defining moment of the 2006 war of south Lebanon against Israel, Hezbollah industrialised martyrdom to position themselves as sole national defenders of the country of Lebanon. The militia's perceived 'divine and strategic victory' over an Israeli invasion led to a shift in the group's discourse away from localised militia narratives and into one of national defence. Secretary-General Nasrallah has even commented that "one of the martyrs' achievements … was preventing a civil war in Lebanon, which is still lasting".[xiv] In his eyes, Hezbollah gave blood for Lebanon when the state lacked capacity to defend itself.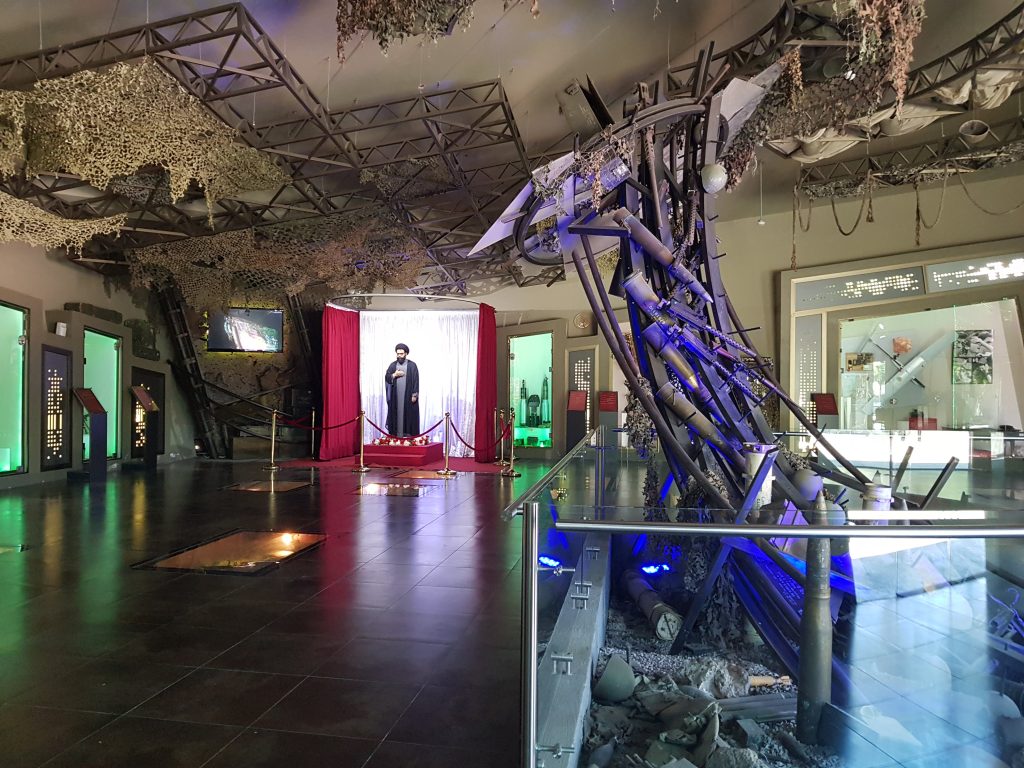 Photo: Tourist Landmark of Resistance, South Lebanon. Credit: Bronte Philips.
From this position, post-2006 Hezbollah's martyrdom 'industry' successfully managed to monopolise the martyrdom discourse of Lebanon, with a designated Martyrs' Foundation and clear designations of categories of martyrdom which informs specific commemoration practices (often observed by party officials to ensure correct observance). In 2010, the group opened its commemorative Tourist Landmark of Resistance to the fallen of 2006, as a means of legitimising its memory narrative using the factualising mode of the museum. In this way, Hezbollah exerts control over how such memory continues to be commemorated and anticipates future violence, whereby the resistance movement includes martyrdom "as a part of its enduring struggle to defend the 'oppressed' from the 'oppressor'".[xv]
More recently, Hezbollah's narrative of national defender is being challenged by corruption, crisis, and conflicts of the region, as well as the capacity of social media to broaden and disrupt the playing field of the discourse. The martyrs of Hezbollah's intervention in Syria are significantly more contentious. Compared with the grandeur of the martyrdom museum of the 2006 war, positioned high on a hilltop and boasting 300,000 domestic and international visitors in its first year of opening, the memorial to the Hezbollah fighters killed in the conflict with Syria, the Garden of Zainab's Poplar Trees mausoleum, is a relatively modest pale stone building, located in Hezbollah's heartland of Dahieh.[xvi] There are no infographics, only Hezbollah regalia, and the room is plain and functional for the housing of 200 uniform graves.[xvii] These understated commemorations are memories for solidifying the group, rather than conquering a collective Lebanese martyrdom of national defence.
Martyrdom in an age of mass media
Institutional narratives of martyrdom have not gone unchallenged in contemporary martyrdom. The internet and social media have had a levelling, and rupturing, effect on the discourse, creating new forms of engagement and challenging traditional memory production. Televised documentaries and online media forge a martyr at a pace of minutes rather than days, while martyrdom material on social media can be created in minutes by anyone with a laptop or mobile phone and shared within seconds. The 2006 war prompted a proliferation of martyrdom content, much of it produced not by 'memory makers' of the political and social elite, but by the Lebanese population under the age of 30.[xviii] Many younger generations feel the discourse has been highly instrumentalised, with the 'martyr's body' brutalised by political elites.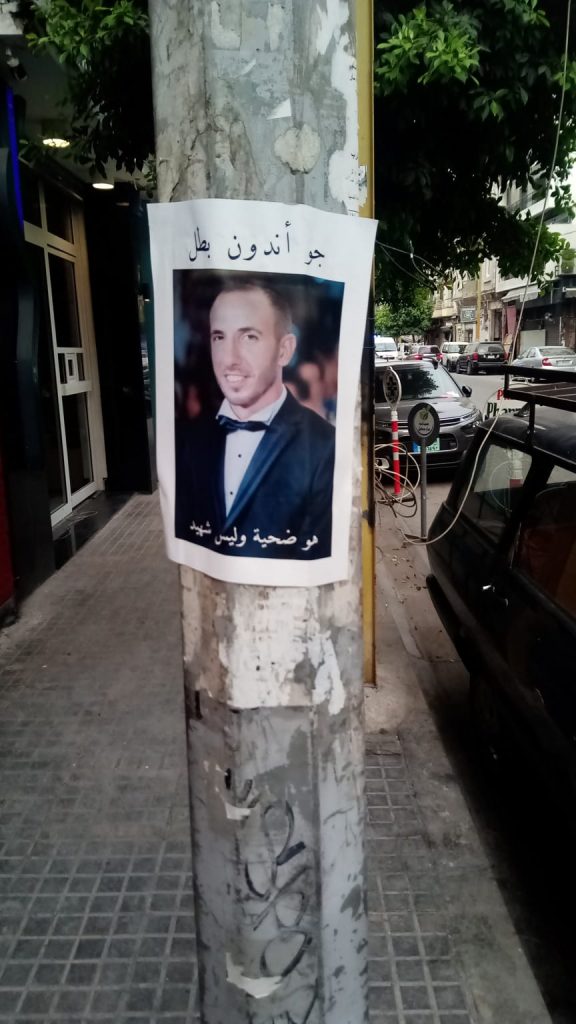 Photo: Poster for one of the dead of the Beirut port explosion, Beirut. Text reads: "Joe Andoon the Hero: he is a victim, not a martyr". Credit: Bronte Philips.
In 2014, the successful #NotAMartyr social media campaign was prompted by the death of 16-year-old student Mohammad Chaar in a car bomb in Beirut, as a protest against the use of the term which was seen to obscure the need for investigation and punishment of those responsible.[xix] There has also emerged a new wave of martyrs of political corruption, constructed by civil society and society outside of conventional 'martyrdom makers' through the use of social media. This includes individuals as symbols of resistance against political corruption (such as newspaper Al-Nahar editor, Gebran Tueni, assassinated in 2005, and co-founder of the Lebanese Civil War archive UMAM, Lokman Slim, assassinated in 2021); as icons of popular resistance (Alaa Abou Fakher, a protestor killed in the October 17 protests of 2019); and also as victims of such corruption (the dead of the Beirut port explosion in 2020).
The individual families of the dead of the Beirut port explosion in August 2020 have become focal points of martyrdom narratives which resist and challenge hegemonic ownership of memory. State attempts to commemorate the memory of the casualties have been largely resisted by the families of the martyrs, who perceive attempts to co-opt their memorialisation as a means of consoling the continued block on an independent investigation into the explosion.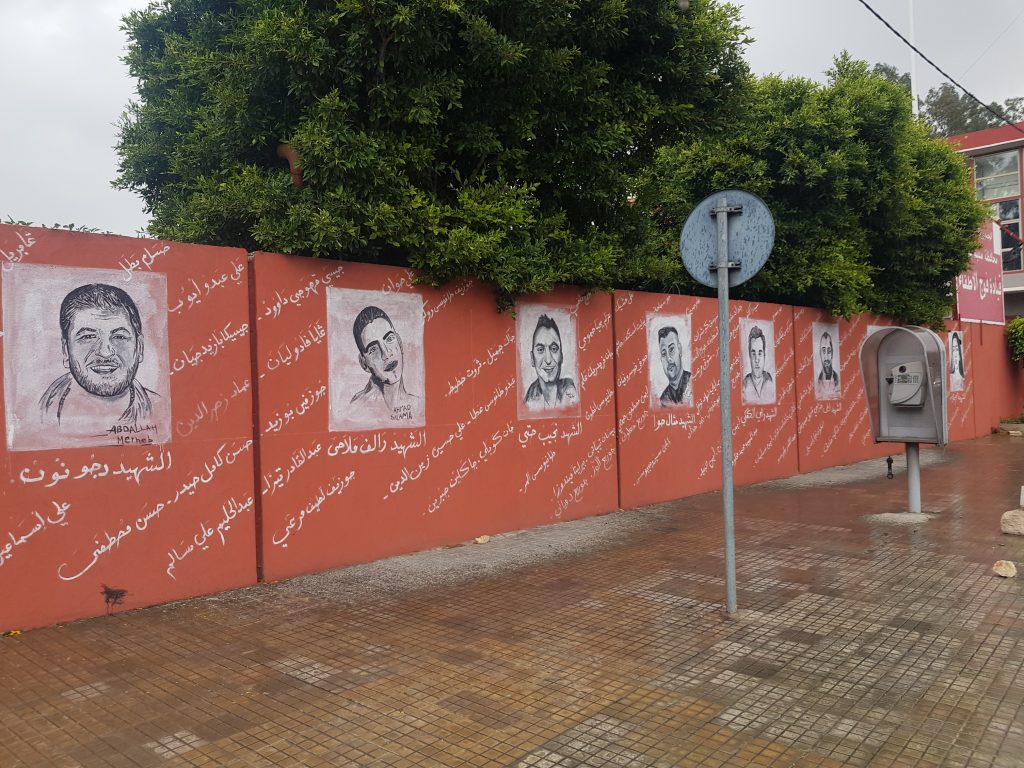 Photo: Memorial wall to the firefighters who died in the Beirut port explosion. Credit: Bronte Philips.
Demonstrations against the lack of progress are a form of martyr memorialisation: held on the fourth day of every month since the explosion, protestors hold posters showing the faces of the dead, with their names proceeded by diverse titles, such as 'martyr of the state', 'hero martyr,' and 'martyr of corruption'. These new modes of martyrdom as a means of challenging political corruption through memory pose a threat to hegemonic powers in Lebanon; a memorial wall of the portraits of the martyrs installed by civil society was water blasted unexpectedly in 2023.
Martyrdom continues, and will continue, in Lebanon as a powerful tool for collective storytelling: shaping, passing down, and mobilising trauma through narratives which legitimise, control, and affirm group identity and, more recently, offer avenues of resistance. Whilst social media has opened up a larger, more diverse playing field for the creation and consumption of martyrdom material, the concept is not a new vehicle of memory, but one which is rooted in centuries of historical legacy and continually regurgitates and recycles itself. Martyrdom informs visions of the past, but, in so doing, it shapes the future of cycles of violence, revenge, and sectarianism.
Future martyrdom discourse looks to be even more diverse, prolific, and indeed democratised. According to Nayla Tueni, the daughter of the assassinated Gebran Tueni, "martyrdom itself is a cause that must be restudied; the basis and conditions of which must be specified considering some youths are being deceived. They are being deceived into believing in causes which are not actually patriotic, religious or humane but which actually serve certain parties' personal aims."[xx]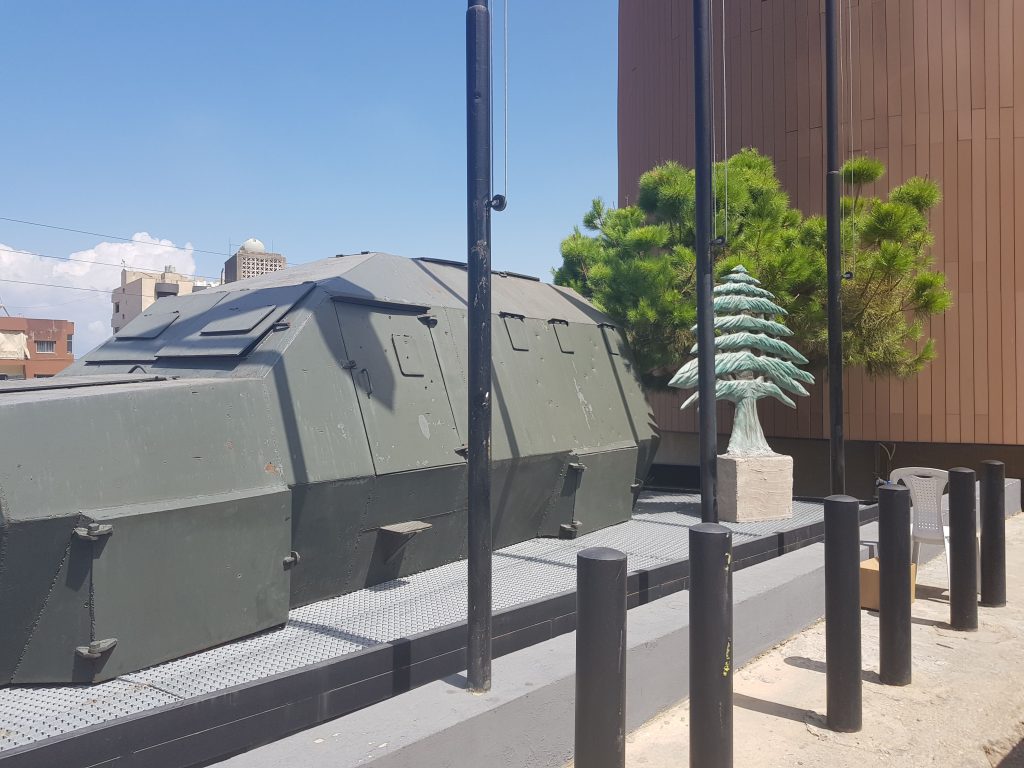 Photo: Kataeb's Independence museum dedicated to the martyrs of the Civil War, Jounieh. Credit: Bronte Philips.
[i] 'Nasrallah delivers speech on occasion of Hezbollah Martyr's Day', Iran Press, 11 November 2021. https://iranpress.com/content/49968/nasrallah-delivers-speech-occasion-hezbollah-martyr-day
[ii] Gölz, "Martyrdom and the Struggle for Power. Interdisciplinary Perspectives on Martyrdom in the Modern Middle East," 9.
[iii] Khosrokhavar, Afsaruddin, Cook, Understanding and Addressing Suicide Attacks. Janes and Houen, Martyrdom and Terrorism: Pre-modern to Contemporary Perspectives; Slavicek, "Deconstructing the Shariatic Justification of Suicide Bombings."; Pape, Dying to Win. The Strategic Logic of Suicide Terrorism; Reuter, My Life Is a Weapon; Asad, On Suicide Bombing; Hatina, Martyrdom in Modern Islam. Piety, Power and Politics; Cook, Martyrdom in Islam.
[iv]  Larkin, Memory and Conflict in Lebanon, 158; Fisk, Pity the Nation, 93.
[v] Dabbous, Dabbous, and Nasser, "'Across the Bridge of Death', the Culture of Martyrdom in Lebanon 1960s-1980s," 610–11.
[vi] Dabbous, Dabbous, and Nasser, 610.
[vii] Maasri, Off The Wall, 3.
[viii] Dabbous, Dabbous, and Nasser, 610–11.
[ix] Haugbolle, War and Memory in Lebanon, 102.
[x] Huyssen, "Present Pasts," 3.
[xi] Hermez, War Is Coming, 154–55.
[xii] Hermez, 151–52.
[xiii] Knudsen, "Death of a Statesman – Birth of a Martyr," 1.
[xiv] 'Hezbollah leader: Militants 'won't surrender arms',' CNN, 22 September 2006. https://edition.cnn.com/2006/WORLD/meast/09/22/lebanon.rally/
[xv] Kızılkaya, "Hizbullah's Moral Justification of Its Military Intervention in the Syrian Civil War," 213.
[xvi] 'Hezbollah-land' Attracting Jihad Tourists,' ABC News, 15 July 2010. https://abcnews.go.com/International/Travel/hezbollahland-war-meets-tourism-lebanon/story?id=11173351
[xvii] "Inside the Mausoleums of Hezbollah's Secret Syria Dead," TRT World, 27 July 2018. https://www.trtworld.com/magazine/inside-the-mausoleums-of-hezbollah-s-secret-syria-dead-19171
[xviii] Haugbolle, War and Memory in Lebanon, 236.
[xix] 'Outraged Lebanese protest teenager's death with #notamartyr campaign,' CNN, 23 January 2014. https://edition.cnn.com/2014/01/22/world/meast/lebanon-not-a-martyr-campaign/index.html;
'#BBCtrending: Lebanon's #notamartyr selfie protest,' BBC News, 6 January 2014. https://www.bbc.co.uk/news/blogs-trending-25623299
[xx]  'On Martyrdom in Lebanon,' Nayla Tueni, An Nahar, 3 February 2014. https://english.alarabiya.net/views/news/middle-east/2014/02/05/On-martyrdom-in-Lebanon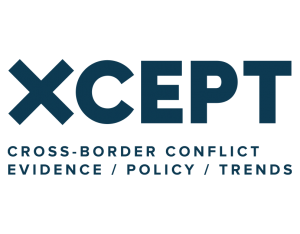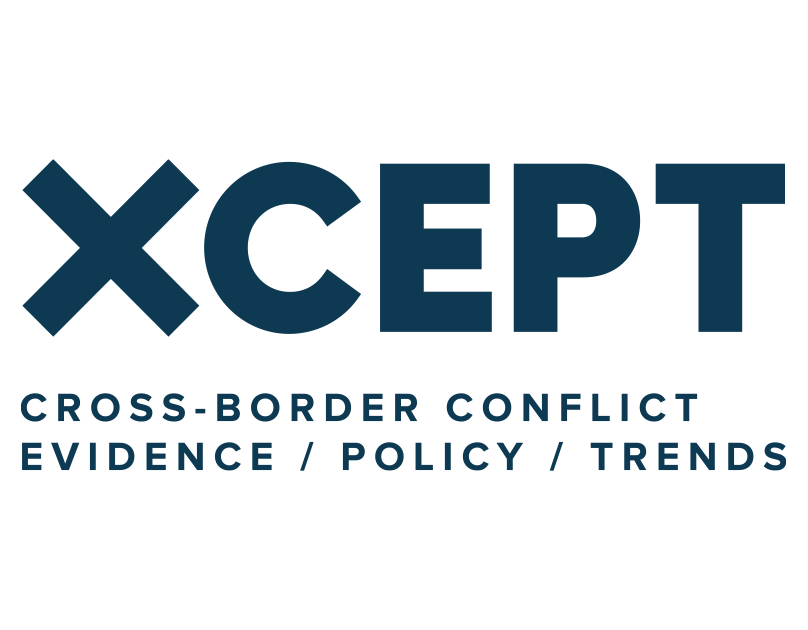 This publication was produced as part of the XCEPT programme, a programme funded by UK Aid from the UK government. The views expressed do not necessarily reflect the UK government's official policies.